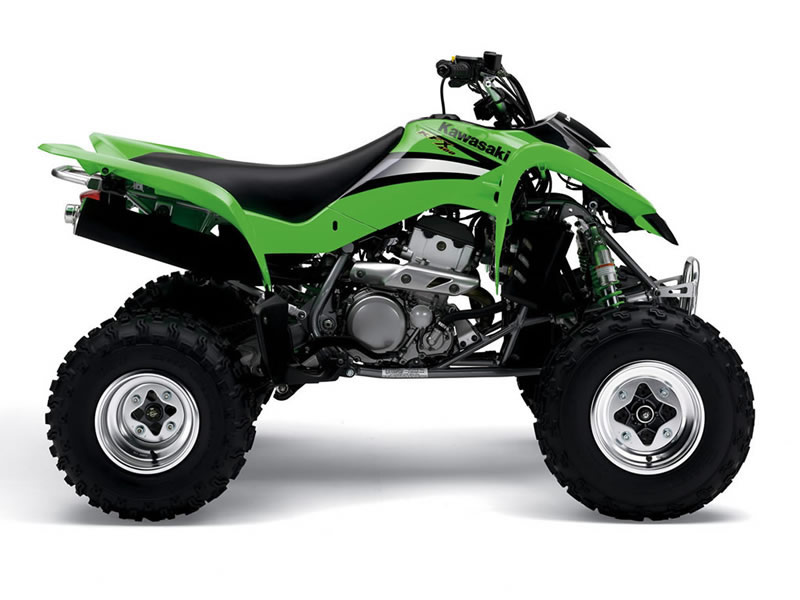 KFX 400 2005
---
Pris: 61 990,-
Alle priser er inkl mva. Forbehold om endring av pris uten varsel.
Spesifikasjoner
Motor: 398ccm, Liquid-cooled, 4-takt, 1 sylinder med DOHC og 4 ventiler med dry-sump lubrication system

Forgasser: Mikuni BSR36

Start: Elektrisk

Gir: 5 gir + revers

Final drive: 520 O-ring chain

Frame type: High-tensile tubular steel

Suspension, front/wheel travel: Dual A-arms with coil-over shock, adjustable preload/8.3 in.

Suspension, rear/wheel travel: Swingarm with preload-adjustable shock/9.1 in.

Dekk front: 22 x 7-10 radial

Dekk bak: 20 x 10-9 radial

Bremser foran: 2 hydraulic skiver

Bremser bak: 1-skive

Lengde: 1.830cm.

Bredde: 1.165cm.
Høyde: 1.160cm

Ground clearance: 265/100 mm

Lighting, headlights: Dual 30W halogen

Tørrvekt: 169 kg.

Tankkapasitet: 10 l.

Farge: Kawasaki Lime Grønn
---